Astrology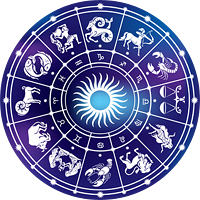 Astrology (Western astrology) is to understand the energy that the star has at that moment, that is the energy that an individual selected as his or her "individuality/identity", from the arrangement of stars at the moment the individual was born. It is possible to understand not only human individuals but also the trends of society at that time and also about their personality and future trends other than living things such as corporations.
At the individual level, it is well-known as the so-called "horoscope", but the magazine's "horoscope" etc. is simply occupied by the constellation where the sun enters at the birth.
However, the original astrology is to read and understand the unique energy of the person who exists on the earth with the unique alignments of the stars in the sky.
Astrology reader, Aquilah, ha s the experience of astrology leadings that can reveal the nature of the individuals deeply and creatively over 20 years, and 15 years experience of professional readings and counseling for the clients.
AkaSha and Aquilah are always keeping in mind to offer sound and wide-ranging advice to clients who want to understand by themselves the "meaning" of what is happening, and to actively approach closer to the prospects for the future.
---
Private session
Please contact us for details about what can be consulted.
We offer advices for various matters, such as job/works, personal relationships, timing selection, etc.
– Fee: charge by time 3,000(JPY)/30min. 5,000(JPY)/60min, exces 60min: 1,500(JPY)/every 15min extra.
– Need to have: Birth data(Date of birth of consulter, and time of birth is better to consult(not must if you don't know), place of birth.
We consult by the way below, please contact if you have any other requests.→contact
– Face to face session
– Session by telephone
– Session by Skype or other online tools
– Consultation by email
*Only consultation by email need to contact and show what you want to consult in order to fix the fee of consultation.All the session's charge except consultation by email is shown above.
< Western Astrology / Consultation by email / Menu >
We have fixed menu to consult below as western astrology. We also accept other request to consult, please contact.
[menu:1] Your natal character, fortune, and the tendancy of life :

3,000(JPY)

[menu:2] Main stream of all your life(every 10 years' tendancys) :

2,000(JPY)

[menu:3] Your fortune of past and future(important fortune of past 5 years and 10years of the future) :

5,000(JPY)

[menu:4] Relationship of 2 person and their possibility of the future :

5,000(JPY) 

[menu:5] Every other question :  

5,000(JPY)
Consultation's result above are all different. Please chose every each menus you like to know.
→contact for consultation.